Head of the Department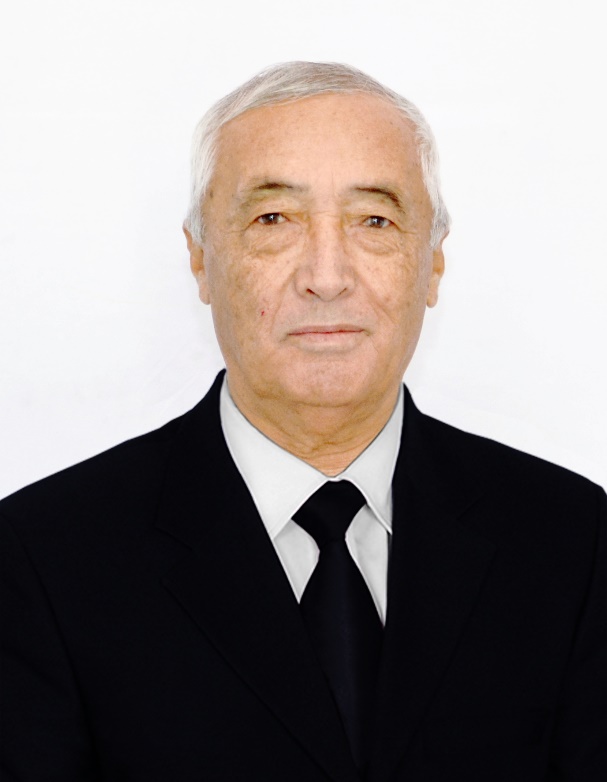 Khashimov Farhod Khakimovich
Biography
1960-1965 - Student of the Samarkand Agricultural Institute
1965-1965 - Junior researcher
1965-1966 – Military Service
1967-1970 - PhD student of Samarkand Agricultural Institute
1970-1978 - Assistant, Senior Lecturer, Samarkand Agricultural Institute
1978-1979 - Deputy Dean of the Agronomy Faculty of the Samarkand Agricultural Institute 1979-1981 - Associate Professor of the Department of Agrochemistry and General Agriculture of the Samarkand Agricultural Institute
1980-1984 - Vice-rector for academic affairs of the Samarkand Agricultural Institute
1982-1984 – Acting Rector of the Institute of the Samarkand Agricultural Institute
1984-1990 - Head of the Department of Agrochemistry and General Agriculture of the Samarkand Agricultural Institute
1990-1999 - Head of the Department of Agrochemistry and Plant Protection of the Samarkand Agricultural Institute
1994-1998 - Dean of the Agronomy Faculty of the Samarkand Agricultural Institute
1998-2012 Head of the Department of Agrochemistry, Soil Science and Plant Protection of the Samarkand Agricultural Institute
2012-2015 - Professor of the Department of Agrochemistry, Soil Science and Plant Protection of the Samarkand Agricultural Institute
2015-2018 - Head of the Department of Agrochemistry, Soil Science and Plant Protection of the Samarkand Agricultural Institute
2018-2020 - Head of the Department of Agrochemistry, Soil Science, Plant Protection and Quarantine Samarkand Veterinarian Medicine Institute
2020- to date.- Head of the Department of Agrochemistry and Plant Protection Samarkand State University
By the decree of the President of the Republic of Uzbekistan, the Faculty of Agrobiotechnology and Food Security was organized at the Samarkand State University. The department "Agrochemistry and plant protection" was opened within the faculty, which conducts educational work on training specialists in the areas of education 5410100- Agrochemistry and agrosoil science and 5410300- Plant protection (by types of crops).
Currently, the department consists of 5 teachers, among whom there are 2 doctors of sciences, professors, 2 candidates of sciences, associate professors and 1 senior teacher.
The department conducts scientific research on the development of scientific foundations of nutrition and technology for the use of fertilizers, and the protection of plants from pests, diseases and weeds for the main crops cultivated in the region.
In its scientific and educational work, the department collaborates with the Research Institute of Soil Science and Agrochemistry, UzNIIZR, Tashkent State University, BukhGU, Institute of Chemistry of Plant Substances of the Academy of Sciences of the Republic of Uzbekistan, TSKHA-RGAU, UzNU, Voronezh GAU, Nizhny Novgorod GAU, Saratov GAU, Shchelkovo-Agrokhim JSC (Russia) and dr.
List of subjects studied at the department
Plant protection
Phytopathology
Agrochemistry
Methodology for agrochemical research
Biology and chemistry of soil
Agrochemical service in agriculture
Fertilizer application system
Soil science and agrochemistry
General entomology and zoology
General phytopathology and microbiology
Plant immunity
Mycology
Quarantine phytoexamination in crop production
Biological plant protection
Chemical protection of plants
Modern technology to protect grapes from diseases and pests
Agricultural entomology
Agricultural phytopathology
Protection of greenhouse crops from pests
Protection of greenhouse crops from diseases
Modern technologies application of fertilizers in viticulture
Modern technologies for protecting greenhouse crops from pests and diseases
Modern technologies for protecting grapes from pests and diseases
System of application of fertilizers with drip irrigation