Institute of Biochemistry
Director of the institute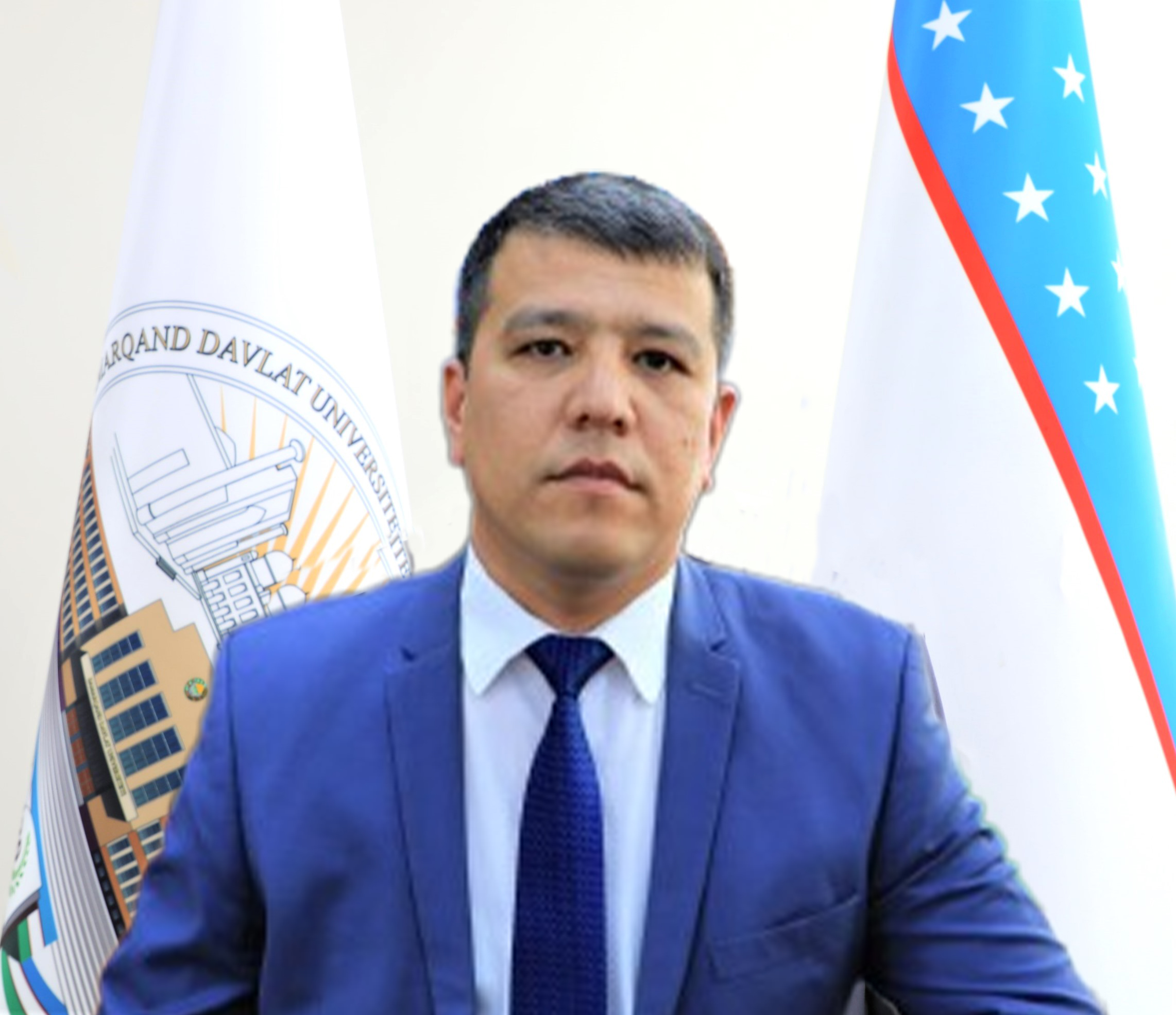 Urokov Sirodzhiddin Khudaiberdievich
Reception days: Every day (12:00-16:00)
Phone: +99866 239 13 05
Biography
1999-2003 - Student of Samarkand State University;
2003-2005 - Master of Samarkand State University;
2005-2008 - Assistant at the Department of Botany and Plant Physiology, Samarkand State University;
2008-2010 - Deputy Dean of the Faculty of Biology, Samarkand State University;
2010-2014 - Assistant at the Department of Botany and Plant Physiology, Samarkand State University;
2014-2018 - Associate Professor of the Department of Botany and Plant Physiology;
2018-2021 - Head of the Department of Plant Physiology and Microbiology;
2021-2023 - Dean of the Faculty of Preschool and Primary Education of Samarkand State University;
2023 - present - Director of the Institute of Biochemistry, Samarkand State University.
ABOUT THE INSTITUTE
In 2023, the Institute of Biochemistry was created on the basis of the chemical and biological faculties of SamSU. The institute has 10 departments:
1. Analytical chemistry
2. Botany
3. Genetics and biotechnology
4. Zoology
5. Inorganic chemistry and materials science
6. Human and animal physiology and biochemistry
7. Organic synthesis and bioorganic chemistry
8. Polymer chemistry and chemical technology
9. Physical and colloidal chemistry
10. Plant physiology and microbiology
Today, the institute employs more than 100 professors and teachers, including 17 doctors of science, professors, 72 candidates of science, PhD, associate professors and more than 10 foreign scientists. The scientific potential of the institute is 84.4%.
The Institute trains personnel in the following types of undergraduate, full-time and evening education:
1. Biology (by species);
2. Chemistry (by type);
3. Biotechnology (by industry);
4. Chemical technology (by type of activity).
A system for training masters in biology, chemistry and biotechnology has been created.
The institute has scientific councils for awarding academic degrees PhD.02.28.2018.K.02.05, PhD.03/12.30.2019.B.02.08. Scientific works are defended in the specialties "02.00.02-Analytical Chemistry", "02.00.04-Physical Chemistry", "03.00.05-Botany", "03.00.06-Zoology", "03.00.07-Plant Physiology and Biochemistry" , "03.00.08 - Physiology of humans and animals."
The Institute cooperates with a number of foreign universities, including the University of Bologna in Italy, the University of Nevada USA, Istanbul University, Ankara University, Afyon Kozatepe University of Turkey, Moscow State University, Tomsk State University, Kazan State University of Russia, University of Szeged in Hungary, University of Berlin in Germany .
The institute operates a "Zoological Museum" with more than 4,000 exhibits, equipped with modern advanced equipment, a scientific laboratory named after Professor Aziz Sanjar, Nobel Prize winner "Modern Analytical Methods", a "Greenhouse" where about 250 species of plants are grown with more than 1,000 specimens, "Herbarium Fund" with thousands of herbarium specimens, scientific laboratory "Gas Analysis", scientific laboratory "Ecological Systems and Instruments", "Entomological Collection" including all types of insects found in our local fauna, scientific laboratory "Modern Biotechnological Research", laboratory " Vivarium" for research involving living animals.