Dean of faculty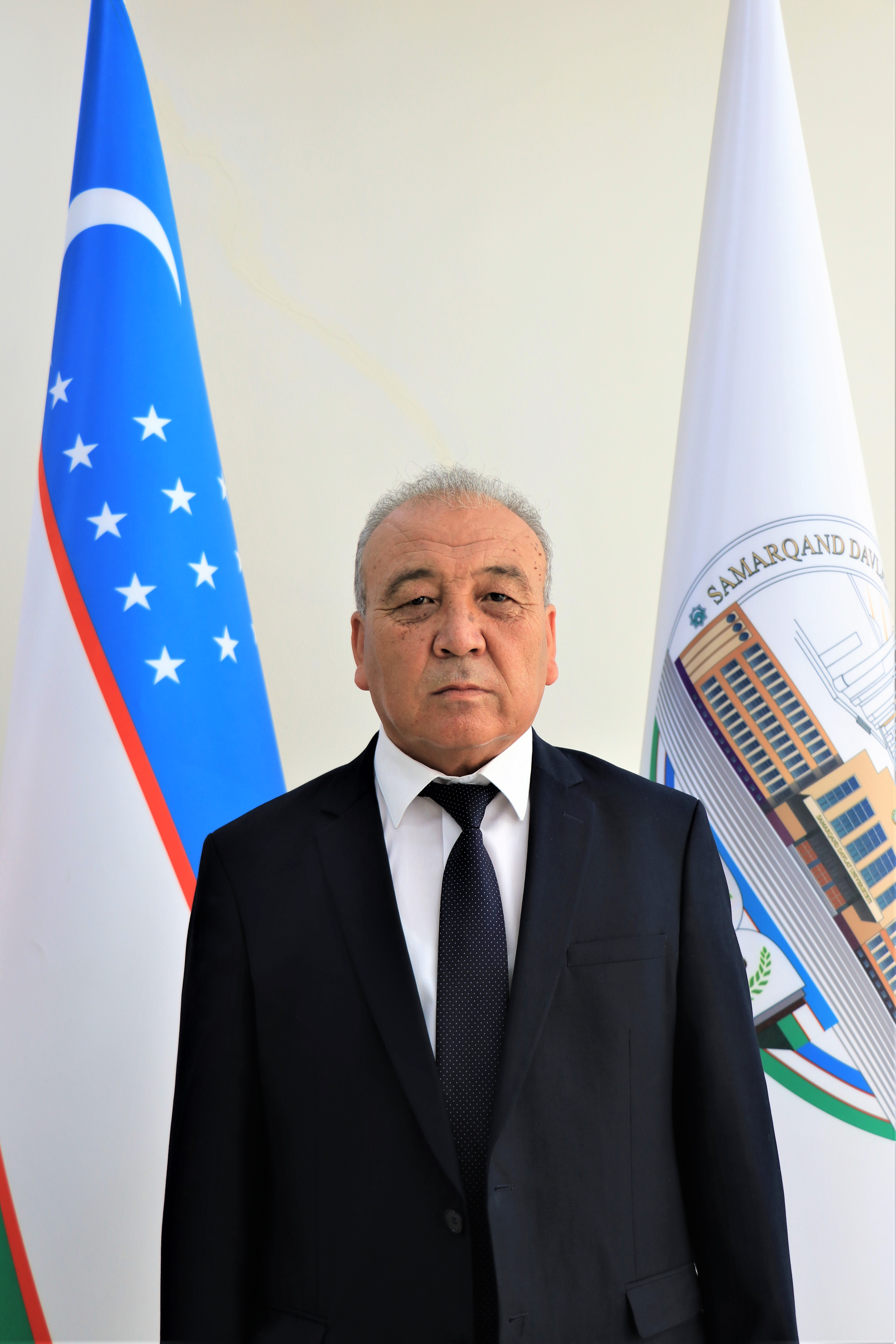 Ravshanov Alikul Xudoyberdiyevich
Reception days: Everyday (12:00 -16:00)
Phone number: +99866-239-16-36; +998906066914
Email: ravshanov1401@mail.ru
Biography
Born on January 14, 1964.
1982 - 1984 - In military service
1985 - 1990 - Student of Samarkand State University
1990 - 1991 - Lobarant to Samarkand State University
1991 - 1993 - Stajer-issledovatel Samarkand State University
1993 - 2007 - Assistant faculty of Regional physical geography
2007 - 2011 - Senior lecturer of Hydrometeorology department
2011 - 2016 - Deputy dean of the faculty Estestvennyx nauk
2017 - 2019 - Senior lecturer of Hydrometeorology department Deputy Dean of the Faculty of Geography and Ecology
2019 - 2021 gg. - Senior lecturer of the Department of Social and Economic Geography
In 2021 - Dean of the Faculty of Geography and Ecology
The faculty was founded in 1966. The main initiative and organizer of this work was Mardon Umarov. Professor M. Umarov worked as a dean for 25 years continuously from 1966 to 1991 and led a great deal of organizational work in the field of scientific research.
Currently, the faculty prepares bachelors in three areas (geography, ecology and hydrometeorology) and masters in 4 specialties (geography of studying the object, ecology, soil science, hydrology). There are 50 professors, including 9 doctors of science, professors, 12 candidates of science, associate professors and senior lecturers.
The faculty has 500 students and 25 masters. There are 1 computer class, a geological museum, 14 training rooms and a room of Uzbek-Azerbaijani friendship.
The faculty members participated in the Urbalife project in collaboration with Belgium, Spain and Italy under the TACIS / TEMPUS program on tourism, urbanization and urban ecology in 1994-1997, and also studied at the Brussels Institute of Higher Architecture of the Polytechnic University of Milan.
The owner of the order "El-Yurt Khurmati", the author of the textbook, "Natural geography of continents and oceans", recommended for students of 6 classes of secondary schools, professor A. Abulkosimov and for many years, a member of the commission on environmental protection, "Honored a scientist of the Republic of Uzbekistan" prof. L. Alibekov.
Faculty members conduct research on basic, applied research and innovative projects. In particular, it is planned to create the Samarkand regional electric power industry, Environmental Protection of the Samarkand Region, Drinking Water Quality, Distribution of Household Waste, to study and create a map of wind resources using new stationary posts that receive electricity from the Samarkand Region, to create an ecological, tourist map of Zerafshan valley.
The faculty also has good skills in working with talented students. In 2010, U.Abyalova gave the scholarship named Beruni, in 2011 N. Yerlapasov - the scholarship named Kadir Zokirov, in 2013 K.Kobilova - the scholarship of Jura Saidov, in 2015 R.Davronova - State Prize named Ulugbek. In the 2017-2018 academic year, four graduates of the faculty were enrolled in the magistracy on a grant from the North Caucasus Federal University in Russia.
In the field of international relations, teachers are currently conducting research with foreign partners in the framework of the international ECAP project.