Head of the department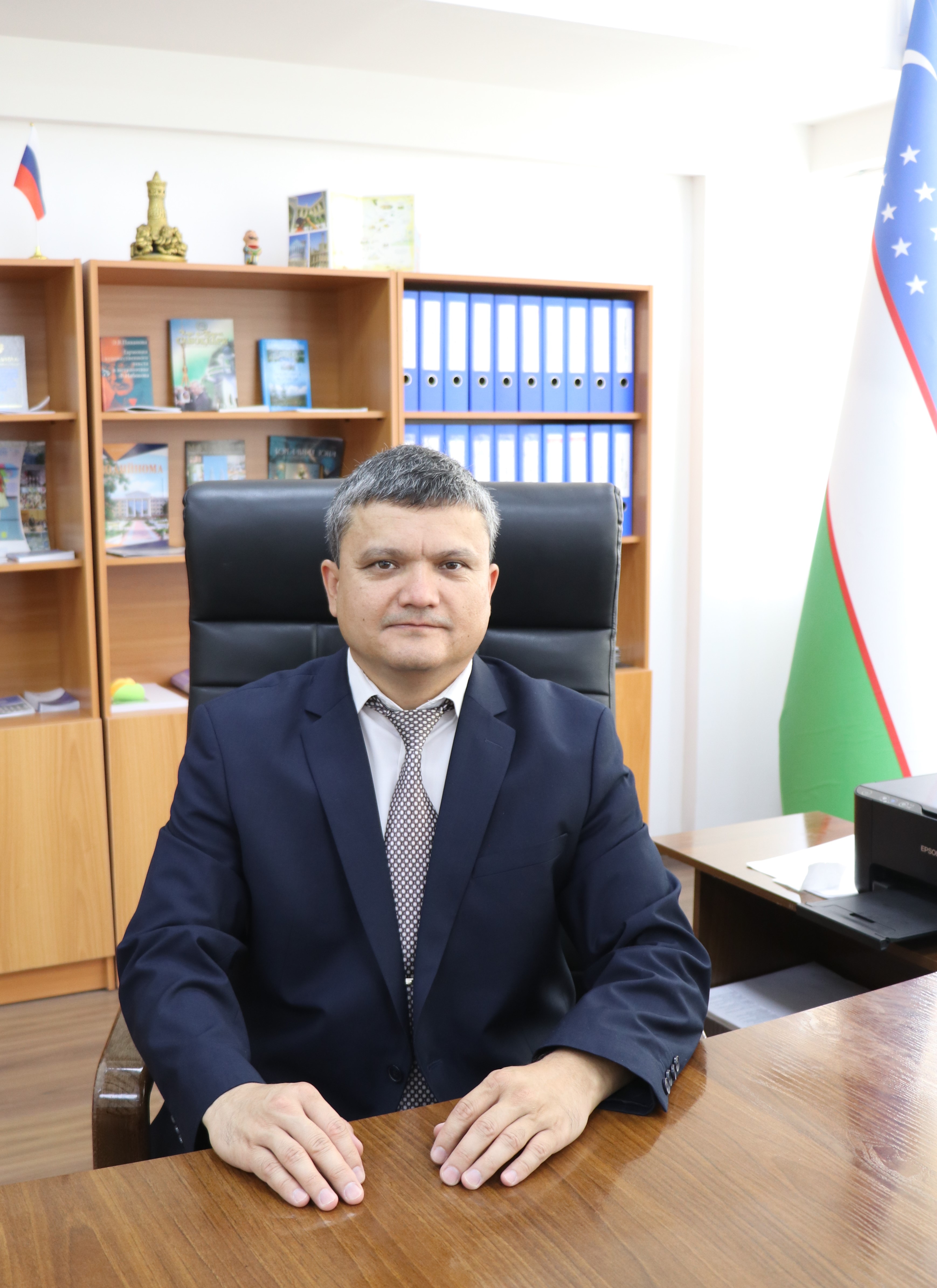 Tillaev Sanjar Usmonovich
Reception days: Everyday (8:00 -16:00)
Phone number: +9989839983440
Email: t-sanjar@samdu.uz
Biography
2000-2004 - Student of the Faculty of Chemistry, Samarkand State University
2004-2006 - Master's student of the Faculty of Chemistry, Samarkand State University
2006-2009 - Postgraduate student of the Faculty of Chemistry, Samarkand State University
2010-2011 - Laboratory assistant at the Faculty of Chemistry, Samarkand State University
2011-2012 - Assistant of the Department of Biological Chemistry, Samarkand State Medical Institute
2012-2013 - Associate Professor of the Department of Organic and Inorganic Chemistry, Samarkand State University
2013-2018 - Head of the Department of Organic and Inorganic Chemistry, Samarkand State University
2018-2020 - Deputy Dean of the Faculty of Chemistry, Samarkand State University
2020 - up to now – Acting Head of the Department of Organic Synthesis and Bioorganic Chemistry, Samarkand State University
In 1933 the chemical faculty of SSU was founded. Two years later, the Research Institute of Chemistry began its activities at the Faculty of Chemistry. In the laboratories, experimental studies began in four directions: organic, analytic, physical, and colloidal chemistry.
Scientific research on organic chemistry was started by Professor L.N. Parfentev in 1920s. In 1933-1941, studies were carried out on organophosphate (L.N. Porfentev, M.H. Shodiev, A.A. Shamshurin), organic sodium compounds (S.P. Lazerov, A.N. Bin), olefins (K.M. Shodmanov) and their derivatives (A.A. Shamshurin, R.A. Ibodulin). A huge experimental work was done to study the composition of plants in the Zarafshan Valley (M.M. Abramov, S.M. Strepkov). Professor G. B. Lazurevsky (later Academician of the Moldavian Republic) and Acad. O.S. Sadikov.
The development of the Department of Organic Chemistry of SamSU made a great contribution, which became the head of the department in 1964, a student of Acad. O.S. Sadikov prof. Yu.V. Kurbatov. Under his leadership, educational advances were achieved in the synthesis and study of a large class of heterocyclic compounds (derivatives of pyridine, quinoline, isoquinoline, pyrimidine and its condensed analogues, flavonoids). His students were engaged in scientific and pedagogical activity: associate professors Sh.V. Abdullaev, A.S. Kurbatov, F.M. Saidova, E.O. Oripov. O.S. Bazhenov, M.A. Salikhova, A. Sattikulov, D.A. Turaeva, M.J. Alimov, assistants: E.V. Tsukervanik, S.B., Babazhanova, K.A. Zakhidov and others. Senior laboratory assistants E.L. Khokhlova and S.N. Kasimov, who worked at the department for many years, were real experts in their field. One doctoral and more than 10 candidate theses were defended at the department. Being the head of the department after prof. Yu.V.Kurbatov Assoc. D.A. Turaeva also contributed to the development of the department. She reported on her scientific achievements in many prestigious world conferences (USA, UK, Japan, Israel, etc.). In 2011, the head of the department became Assoc. M.J. Alimova. The Department of Organic Chemistry for a number of years was part of the organic and inorganic chemistry of the Faculty of Natural Sciences of SamSU (2011-2018).
After the Faculty of Chemistry became separate, the Department of Organic and Bioorganic Chemistry regained its status. In 2018 a student of prof. H.M. Shahidoyatov Assoc. Z.U. Samarov became the Head of the Department. Now, under his leadership, conducted research on the synthesis and search for biologically active compounds among the derivatives of isoquinoline, pyrimidine, quinosoline and their analogues.
The department conducts its research jointly with the Institute of Plant Chemistry and the Institute of Bioorganic Chemistry of the Academy of Sciences of the Republic of Uzbekistan. Scientific contacts have been established with more than a dozen research centers in the near and far abroad.