Where are you, Muynak? Students of Samarkand State University visited the Aral Sea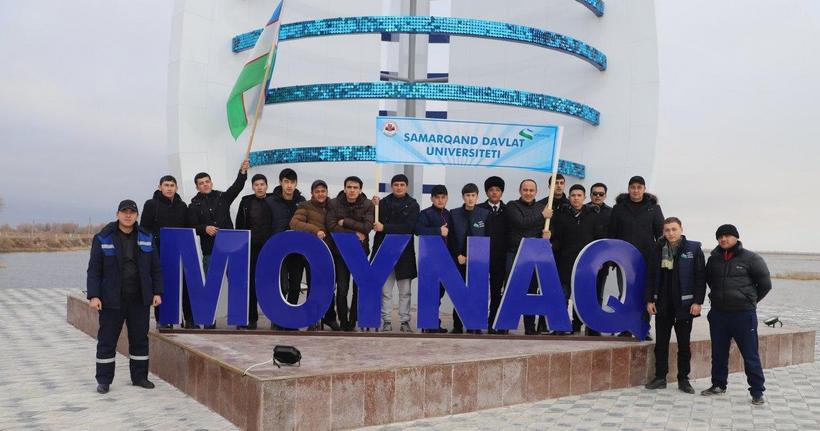 Leaders of the primary organization of the Youth Union of Samarkand State University and a group of active students visited the Aral Sea to familiarize themselves with the ongoing reforms in Muynak district of Karakalpakstan.
Students of Samarkand State University were able to see directly the changes and the creation of modern infrastructure that were carried out on the initiative and efforts of President Shavkat Mirziyoyev in the region with a difficult environmental situation.They saw the unity and solidarity of the population who are carrying out great works such as building unique structures, sports complexes, secondary schools, commercial and cultural-household buildings, youth labor centers, the places "Nuroniy", preschool educational institutions, many amenities in a short period of time that have been created for the local population in order to improve the ecological situation and create convenient living and working conditions.
In the Aral Sea region, thousands of hectares of grasslands are planted with desert plants, haloxylon and climate-resistant shrubs. Climatic calligonum, saltworts have been planted to prevent migration of salt-dusting in the dried salt area of the Aral Sea. The migration of sand, speed of salting are being reduced. The students also contributed to this.
15 students of the University dug and planted haloxylons on 2 hectares of salt land. Last year, professors, teachers and students of SamSU also went to the Aral Sea, to conduct scientific research and plant shrubs and tree seedlings. This tradition has continued this year as well. After all, we are responsible for every inch of land of our homeland and must contribute to its prosperity.
.