Video   projeсt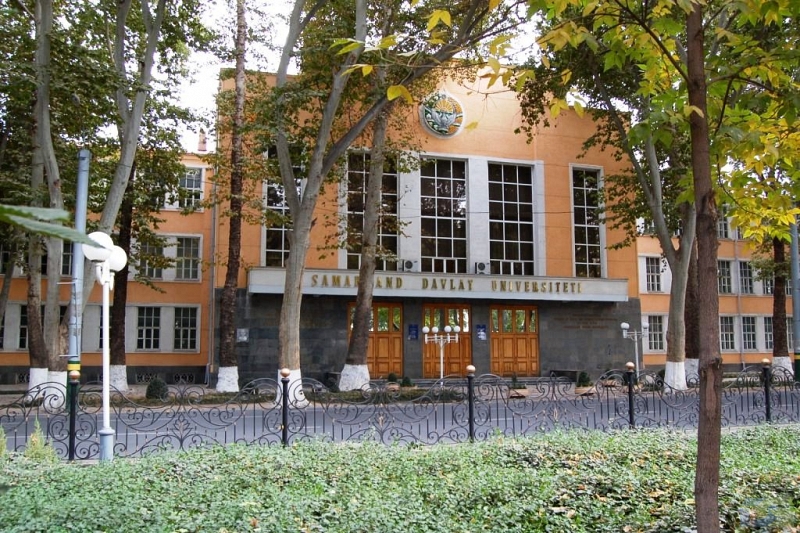 Raising the educational process to a qualitatively new level, introducing advanced pedagogical and information technologies, training of qualified personnel through the strengthening of international relations has become the priority task and the daily program slogan of the Samarkand State University's scientific and pedagogical community!
There is a lot of work being done to ensure the implementation of relevant Decrees and Resolutions of the President of the Republic of Uzbekistan, the Cabinet of Ministers Resolution "On measures to further improve the activities of Samarkand State University".
The university has 16 faculties, 63 departments, 843 professors and teachers.
The scientific potential of the university is 51.2%. The number of students is more than 15 thousand.
The university has a base of doctoral studies (PhD) in 40 specialties, doctoral studies (DSc) in 9 directions and 11 specialized councils.
In order to increase the scientific potential of Sammu, a total of 85 doctoral dissertations have been defended by professors and teachers of the University in the last three years.
Over the past three years, 30 fundamental, 18 practical and 3 innovative projects of five million two hundred and fifty, two thousand seven hundred and forty-four sums have been implemented for the research work carried out within the framework of State Scientific and technical programs.
In 2016-2018, within the framework of 15 international projects, one million five hundred and sixty-seven thousand four hundred and eighty-four euros and twenty-two thousand six hundred and sixty US dollars were appropriated. During these years, 117 university professors have been trained abroad on the basis of various grants from foreign countries.
About 100 scientific and sports clubs, scientific and creative clubs are functioning in order to create conditions for research work of talented students. Thousands of young men and women are involved in these activities. It is worth noting that at present there are 14 World Champions, 26 Asian, 139 champions of Uzbekistan and hundreds of international masters of sports at the University's Physical Culture Faculty.
Over the past three years, 3 students have been awarded Presidential State Scholarships, 15 students have been awarded Navoi, Ulugbek and Islam Karimov State Scholarships, and 166 young people have won prizes (1-3) at international and national Olympiads.
The book is the key to happiness, it is an invaluable treasure that will never be worn out. In recent years, the University Library Fund has enriched two million seven hundred fourteen thousand three hundred seventy eight copies.
On the initiative of the head of SamSU, the Center of Samarkand Book World was established!
Quality in education determines the degree of maturity of society. In today's path of development, Uzbekistan needs educated, talented, and eager young people. In the last academic year, the faculty of preschool education was established. This year the faculties of Art Studies and International Educational Programs began to function.
At the beginning of the current year, the studio "Dorilfunun" was founded. Dozens of roundtables, talks and interviews are broadcast by the press service on regional and NTRC TV channels.
There is a need for advanced personnel in the University in accordance with the current pace of reforms. Accordingly, for 3 years, more than 15 students from the University were sent to study for a doctoral degree (PhD), while more than 100 students were sent abroad to study in the directions of the master's degree. More than 100 foreign scientists, professors and teachers visited this university. More than 150 professors and teachers of the University have qualified at prestigious universities abroad, participated in scientific internships and international conferences.
With its six hundred years of glorious history, Samarkand State University will continue to focus on education, training of personnel, increasing the potential and prestige of innovative creativity.
Press service of Samarkand State University.